Silver partner
About Syncsort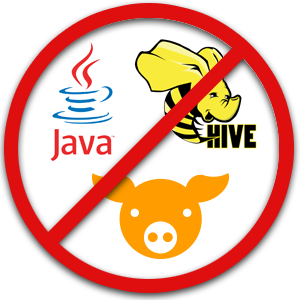 With a 40-year track record of innovation, expertise and proven success, Syncsort helps organizations across integrate Big Data…Smarter.
Syncsort provides data-intensive organizations, across the big data continuum, with a smarter way to collect and process the ever-expanding data avalanche by delivering results in less time, for less money, and with fewer resources.
Hadoop ETL Just Got Smarter!
Syncsort's Hadoop ETL Solution extends the capabilities of Hadoop, turning it into a highly scalable, affordable, and easy-to-use data integration environment. See for yourself at our dotScale workshop on Saturday, June 8th.
Everything you need for Hadoop ETL. No coding, No Tuning, No Kidding!
Connect to any data source or target
Exploit mainframe data
Develop MapReduce ETL jobs without coding
Jump-start your Hadoop productivity with use case accelerators to help you build common ETL tasks
Build, re-use, and check impact analysis with enhanced metadata capabilities
Optimize performance and efficiency of each individual node
Never tune again
See for yourself!
Take a Test Drive of our Syncsort DMX-h Hadoop ETL software with a 30-day trial
Attend our hands-on workshop at dotScale. Seating is limited. Learn more and register now.